Treadstone Products have added a brand-new trellis concept to their growing accessories brand, The Good Life. Rope Trellis is a flexible plant support product which is space-efficient to store, easy to customise and looks attractive in garden settings.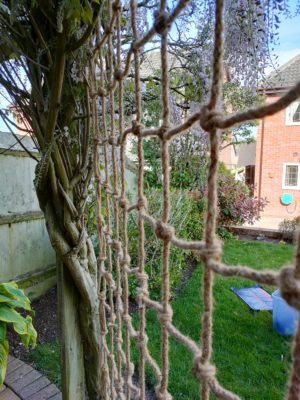 A brand-new Trellis Concept
Available in five sizes, Rope Trellis is a handmade plant support solution using natural materials creating flexible trellis which can be used all around the garden. Fix it to walls or fences, or simply tie it between two wooden posts to create a stunning garden feature. In fact, its uses around the garden are only limited by your imagination. The Rope Trellis can
even be treated with wood preserver to extend its life in the garden. Retailing
from £19.99 it uses natural Jute and is available in five sizes – from 6x2ft to 6x6ft.
Treadstone strive to create products that innovate to solve common problems which has led to industry wide recognition. Treadstone won best product at GLEE 2021 for the innovative Pot & Trough Trellis and the introduction of Rope Trellis adds even more innovation to the growing category under The Good Life brand. 
 Easy to install, easy to customise
 Inspired by cargo nets, Rope Trellis is tied specifically so that the product hangs tight and straight, giving a consistent sequence of support rope for plants to grip. It offers to space-efficient alternative to timber trellis as it comes supplied rolled up. This makes for
easy transportation for the end user, from the shop to home as well as when you
move to a different property. Installation is quick and the product can easily
be uninstalled temporarily for when fencing needs painting or changing.
Furthermore, if the user wants to add colour to the garden, Rope Trellis can be
easily stained by dipping the rope in outdoor preservative and hanging to dry.
Easy for Garden Centres
As well as great flexibility for the end user, the retailer can benefit from easy storage and cost-effective merchandising. Each stand fits thirty pieces of Rope Trellis, with £900 of retail value in a little over 0.25 square meters. With each piece being in a small retail pack, there is no heavy lifting or extra assistance needed. To help sell the concept each stand comes supplied with impactful chalkboard style POS and a sample of the Rope Trellis for consumers to see.
 Rope Trellis might just be the best alternative to conventional trellis out there. It provides an attractive and convenient plant support solution. If you are looking for a unique gardening product, then DARE TO SELL DIFFERENT and get in touch with Treadstone today – sales@treadstoneproducts.com. If you want to know more about Treadstone please visit www.treadstoneproducts.com.