Treadstone Products added more accolades to their name with a stellar night at the GIMA Awards which saw them get recognised seven times and across five product categories! This included winning two awards for their innovative Rope Trellis, one of which was the prestigious GIMA Sustainability Award.
Treadstone are building a reputation for creating innovative products and wherever possible launching sustainable concepts. Rope Trellis scooped another top prize, achieving Winner & Category Sustainability Champion in the Garden Landscaping category. Rope Trellis was also awarded the Category Sustainability Champion in the Growing, Planting Equipment and Sundries category. Upon awarding Treadstone with the GIMA Sustainability Award for Rope trellis the judges said:
"Sometimes the simplest of ideas are the best and this Rope Trellis provides consumers with a great sustainable solution for climbing plants."
Below are Treadstone's lucky 7 awards in full:
Sustainability Award: Winner Treadstone – Rope Trellis
Garden Landscaping: Winner & Category Sustainability Champion: Treadstone – Rope Trellis
Garden Care: Finalists: Treadstone – Rope Trellis
Garden Clothing & Gifts: Finalists: Treadstone Products – ClipGlove Recycled Bottle Glove
Growing, Planting Equipment and Sundries: Category Sustainability Champion: Treadstone – Rope Trellis / Finalists: Treadstone – Rope Trellis
Eco Friendly, User Friendly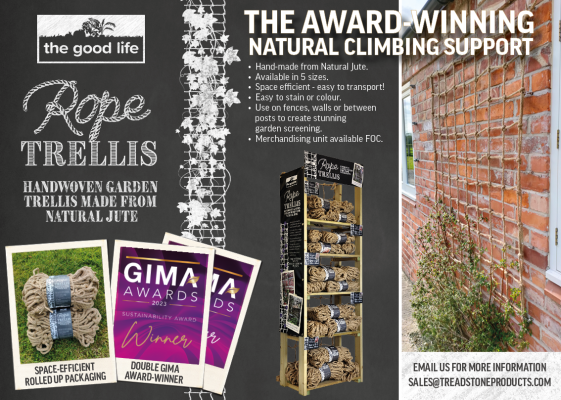 Inspired by cargo nets, Rope Trellis by The Good Life is an alternative to conventional fixed trellis manufactured using a natural jute material. It provides the perfect marriage of user-friendly features and sustainability.
After a solid pre-season, stock arrived in time for spring sales in UK garden centres this year, with the trellis quickly experiencing wide reach after media attention in March. Rope Trellis was recommended in BBC Gardener's World magazine's March 2023 issue appearing in the 'Growing Greener' feature and was highlighted as an innovative eco gardening solution.
Rope Trellis is available in five sizes (from 6 x 2ft to 6 x 6ft.) that all come supplied rolled up. Each pack is therefore easy to transport home where it can then be unrolled and installed. Rope Trellis is hand-made and tied specifically so that the product hangs tight and straight, giving a consistent sequence of support rope for plants to grip. Furthermore, if the user wants to add colour to the garden, Rope Trellis can be easily stained by dipping the rope in outdoor preservative.
Users can fix it to walls or fences or tie it between two wooden posts to create a stunning garden feature. Retailing from £19.99, installation is quick, and the product can easily be un-installed temporarily for when fencing needs painting or changing, as well as easily transported when moving home.
The compact size of the Rope Trellis is also beneficial to retailers as its retail footprint is small, making it a more valuable proposition than fixed timber trellis. In fact, each Rope Trellis display stand fits thirty pieces of Rope Trellis, with £900 of retail value in a little over 0.25 square meters. The merchandising stand itself is supplied ready built with impactful 'chalk board' effect branding supporting the Rope Trellis concept.
Award-winning Innovation
With other innovative products in their brand portfolio, this is not the first time Treadstone have picked up awards. In fact, Treadstone have been highly commended in recent years by GIMA, Glee and also consumer titles such as Good Housekeeping, BBC Gardeners World Live and Amateur Gardening.
Treadstone's flagship brand ClipGlove was also awarded a finalist place in the Garden Clothing & Gifts category at the GIMA awards this year for its Bottle Glove range. The multi-purpose "Bottle Glove" is made using recycled waste plastic bottles. This all-purpose garden glove is made from a staggering 95% recycled plastic bottles, with just a little added elastic for comfort. The Glove is then dipped in natural latex to provide grip and protection from dirt and water. The fun, colourful printed designs add a touch of style whilst giving a nod to the "bottle heritage" of the gloves.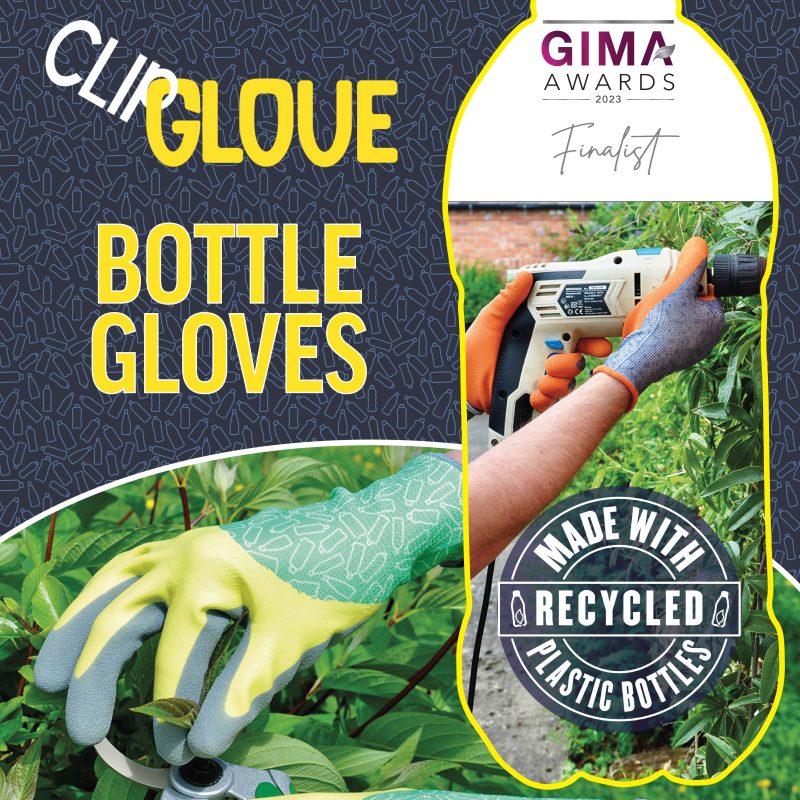 Treadstone Product and Marketing Director Dean Winters said:
"At Treadstone, we are here to support garden centres with innovative products but just as important is having a commitment to sustainable ranges and giving retailers an eco-alternative that is not just daringly different, but also user-friendly. We are very thankful for another successful awards night for Treadstone Products! Thank you to the judges for voting for us."
Speak to the Treadstone team today to find out more about their award-winning range. Please email – sales@treadstoneproducts.com to find out about becoming a stockist. Browse the Treadstone Garden website to view all their products and brands.