Following the success of Recycled Pots by 'The Good Life' Treadstone are launching an exciting new range that is not only sustainable but also offers a sense of style to any garden. Contemporary Plant Pots feature a simple premium and stylish look, perfect for creating stunning displays in the garden and home.
80% recycled, 100% recycled
Available in Urban Grey and Latte colours, each item in the range is made using at least 80% recycled material. The remaining 20% virgin material is required to provide the pots with their inherent strength to provide longevity in use. Users will also have peace of mind as every product in the range is 100% recyclable!
Packed with features!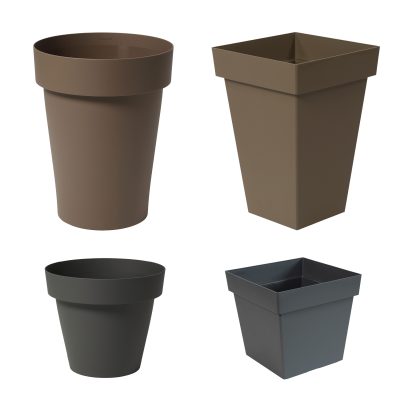 The range suits indoor and outdoor settings well, with simple clean lines on both the round and square style. With a variety of sizes available, contemporary Plant Pots can be used for various plants, as well as larger applications such as small trees. These can be used as a pot cover or planted directly into, drainage holes can be drilled if required. They can also be easily moved with the handy handle recess under the rim to assist when moving planted pots. The round pot range features over ten sizes retailing from £2.99 RRP and the square style features four sizes, from £9.99 RRP. Saucers are also available from £1.49 RRP.
All pots feature a subtle surface texture, including the mini troughs, which are a useful option (RRP £3.99) for siting small flowers such as primula, as well as herbs. Rail Pots can bring elevated floral colour to a garden by being sited on railings around walkways and decking. These are available in two sizes from £10.99 RRP.
Tower Pots are a clover leaf shaped pot that is interchangeable creating beautiful displays. Ideal for herbs, strawberries and bedding plants users can stack them high to create stunning floral towers. This enables gardeners to grow multiple plants in small places with this clever vertical garden pot. Watering is also easy, with water draining from one pot to another once stacked.
A Sense of Style and Sustainability
Contemporary Plant Pots look great in store with the fit for purpose timber shelf merchandiser. As a proven display tool with the Recycled Pots range, supporting POS is included with the Contemporary Pots merchandiser selling the 80% recycled concept with key points such as 'Less Environmental Impact' and 'Reduce Plastic Waste' calls to action.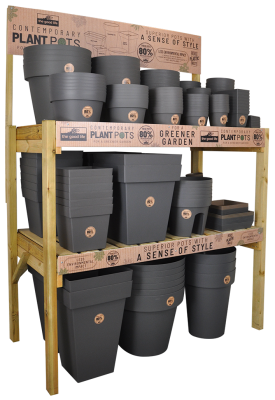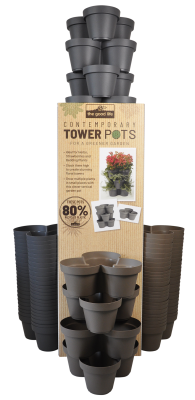 As well as this solid merchandising selling tool, there is a promotion available for the Tower Pot range. The stackable planters that can be used in a modular way are currently available at a £6.99 RRP with a free of charge display when retailers commit to 24 Urban Grey and 24 Latte planters. 
Speak to the Treadstone team today to find out more about the latest eco pot range that's got style and sustainability! For garden centres interested in stocking Contemporary Plant Pots please email – sales@treadstoneproducts.com to find out about pricing and availability.