Known as one of the most innovative garden glove brands in the industry, ClipGlove has launched a new back wall merchandising concept, with the aim to enhance the shopper experience and help grow sales for their customers.
An Instant Hit
As well as boasting a range of quality protective gloves, ClipGlove became a hit very quickly due to a first to market functionality, with each pair of gloves being held together with a carabiner clip. This clip enables gardeners to fasten the gloves onto a convenient place during and after use. This solved that age old problem, of losing gloves around the garden with the clever clip system.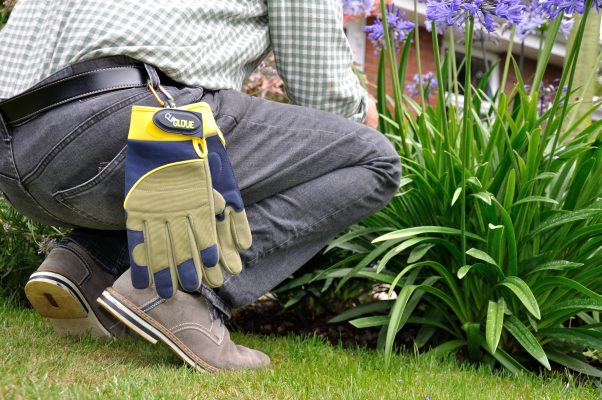 Since Treadstone launched ClipGlove in 2019, the brand has gone from strength to strength, offering a broad range of protective gloves to use for garden and DIY jobs. More recently ClipGlove accessories have been added, with useful products such as bags, aprons, and tool belts to help gardeners whilst performing differing jobs at home and in the garden. These accessories also include the clever carabiner clips, synonymous to the brand. It has become an award-winning range for its products and merchandising, which has helped garden centres sell the concept so well.
Merchandising to grow sales
The brands success has been fully backed up with excellent sell through rates via the GIMA award winning innovative ClipGlove "Spinner Stand" merchandiser. But now customers can take sales performance to a new level with the brand new ClipGlove back wall concept.
This high impact one-stop ClipGlove shop can hold the full ClipGlove product range spanning 4.67m. The full displays can hold the garden glove main range, including the Recycled Bottle Glove range, replacement clips, promotional triple packs, seasonal gloves, garden bags, aprons, and kneelers. There is even room for the new Activity Boot range.
Warm 'n' Waterproof are not only robust in build, but they feature two vibrant colourways. The ladies' gloves have a bright pink palm with pastel green back and thumb crotch and the men's design have a smart dark green, navy blue and orange combination.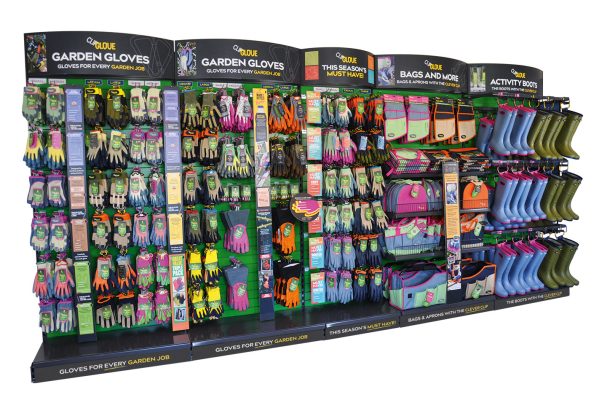 As with all Treadstone displays, the back wall stand is supported by detailed but space efficient POS which have been proven to aid consumer product selection, drive sales and encourage up-selling. There is also the opportunity to pick individual bays if customers wish to select which ranges to site on a back wall.
Eco Gloves from the specialists
Treadstone are also known for being an innovative supplier of Safety gloves. By working in partnership with some of the finest glove manufacturers in the world, they have developed
an unrivalled selection of innovative glove products, which now includes ClipGlove and the most sustainable garden gloves around – Bottle Gloves.
The multi-purpose "Bottle Glove" sub-range sits alongside the main ClipGlove range and is made using recycled waste plastic bottles. The knitted glove is made from a staggering 95% recycled plastic bottles, with just a little added elastic for comfort. The Glove is then dipped in natural latex to provide grip and protection from dirt and water. The fun, colourful printed designs add a touch of style whilst giving a nod to the "bottle heritage" of the gloves.