Treadstone are continuing their sustainability drive by launching a new glove range for their ClipGlove brand that is made using recycled plastic bottles. This on trend sustainable glove comes at an exciting time for Treadstone, who have developed several innovative products in the last two years.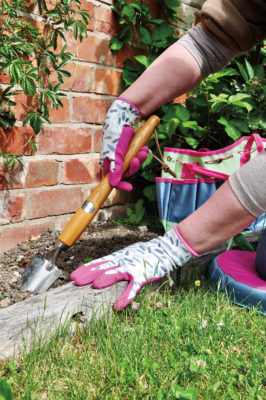 ClipGlove is a brand that was launched by Treadstone in 2019 and the range has continued to grow since then. The range's foundations are built on innovation as well as functionality, with each pair of gloves being held together with a carabiner clip. This clip enables gardeners to fasten the gloves onto a convenient place during and after use. This leads to a reduction in users losing their gloves, as well as making gardening tasks more efficient. 
A handy sustainable option 
The new multi-purpose recycled glove range features a stylish collection of Men's and Ladies' gloves made using recycled plastic bottles! The knitted glove is made from 95% recycled plastic bottles, with just a little added elastic for comfort. The Glove is then dipped in natural latex to provide grip and protection from dirt and water. The fun, colourful printed designs add a touch of style whilst giving a nod to the "bottle heritage" of the gloves.
 There are two versions available in the Bottle Glove range and both gloves are suitable for general garden jobs such as weeding, sowing, potting, and planting.
The Standard Bottle Glove features a textured palm coating of natural latex to provide grip and protection. Bottle Glove Plus is made from the same construction as the Bottle Glove, but with an extra coating of latex, which stretches up the back of the hand to provide increased durability and protection against moisture. The Plus offers a more hardwearing option for more intense gardening tasks such as landscaping. Common to both gloves is the famous carabiner clip which keeps the gloves close and in sight.
 Synonymous to Treadstone Products retail focus, there is a merchandising stand to site the gloves on the shop floor for Garden Centres to take advantage of. This merchandiser reinforces the eco messages and leads on from the award winning ClipGlove Spinner Stand which is now stocked in hundreds of stockists around the UK.
 A greener ClipGlove
 The sustainable Bottle Gloves come at a time when the ClipGlove range itself is becoming more environmentally friendly. This is because from 2023, the glove production will use an average of 30% recycled content, using materials in production that would normally go to waste.
 ClipGlove is a brand that continues to innovate and now offers gloves for environmentally conscious gardeners. If you are interested in stocking ClipGlove Bottle Gloves, DARE TO SELL DIFFERENT and get in touch today, email sales@treadstoneproducts.com.
Take a look at the Treadstone 2023 brochure (click here to view) for further information about their brands and products.