Following the success of their award winning ClipGlove brand, Treadstone Products have experienced a fantastic response to the ClipGlove Accessories range. The range was launched for the 2022 gardening season and is designed to make gardening and DIY tasks as efficient as possible by providing quality solutions to keep gardeners safe, prepared, and comfortable.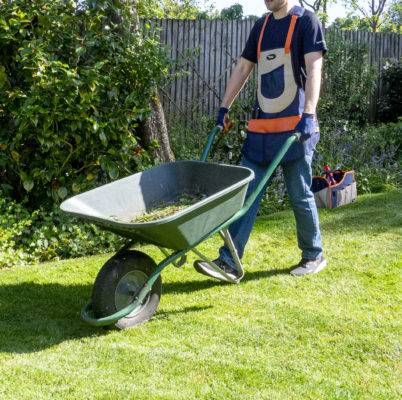 With unprecedented levels of comfort, dexterity, and protection, ClipGlove has continued to grow since its launch in 2019. The range's foundations are built on functionality with each pair of gloves being held together with a carabiner clip, that enables gardeners to clip the gloves onto a convenient place during and after use. Picking up two GIMA awards and three BBC Gardener's World 'Best Buy' awards along the wayTreadstone has grown the ClipGlove range to be listed in hundreds of Garden Centres in the UK.
Same Clip, Same Quality
 Now 'the glove you'll always be able to keep safe'
has a handy accessory offering from £12.99 RRP, providing the perfect partners
to the ClipGlove range. Every item includes that signature carabiner clip and
the same 'quality without compromise' promise. The range features Aprons and
Bags ideal for use whilst gardening but also great for DIY and crafts. The
accessories also match the colour profiles of the glove range with Pink/Blue
and Orange/Navy designs available.
The Aprons come in two formats, with both options featuring a double sided durable 600D polyester fabric. The Long Apron (RRP £17.99) in Pink/Blue, full length to protect all of the users' clothes. This features one breast pocket and two front pockets, great for storing tools and seed packets. The Short Tool Apron (RRP £19.99) supplies ample storage and extra
comfort with the multi pocket design and padded adjustable shoulder straps.
For those quicker jobs the Tool Belt (RRP £12.99)provides a handy place to store away tools and accessories, available in Pink/Blue and Orange/Navy. With a robust build and a useful pen pocket, the belt is ideal for keeping secateurs, plant ties and labels just where they are needed!
When a more involved gardening or DIY session is required, there are two bag options available, in the Pink/Blue and Orange/Navy colourways. The Multi-Pocket Tool Bag (RRP £19.99) is spacious and has exterior multi pockets to keep hand tools and garden nick-nacks organised. The bag can also be closed with the press stud closure fixings and the elastic cord around the top of the bag helps keep tools in place.
 For a larger garden or DIY bag, look no further than the Folding Rigid Tool Bag (RRP £39.99). Featuring the same 600D durable polyester, the rigid bag has reinforcement inserts which are attached and detached via velcro inside the bag. The central comfortable tubular handle keeps the bag open and always accessible. With a strong and sturdy build, with multiple pockets, this is the ultimate gardening bag.
Gardening can take its toll on the knees, which is where the ClipGlove Folding Kneeler (£19.99) comes into its own. This has a waterproof easy-clean base and durable polyester fabric. The multi layered foam core has a memory foam top layer for optimum comfort. Also available in
Pink/Blue and Orange/Navy designs, the kneeler can be folded up and stored away 
after use.
 Award winning merchandising options
 ClipGloves' glove merchandising is award winning and offers vital point of sale support for end users while they shop in store. To complement this, the Gardening Accessories range has a matching display option in the form of the 'Bags & More' merchandiser. This also allows space for all the accessories range as well as some key glove products. Like all Treadstone merchandising options, this display stand is high impact and space efficient.
The ClipGlove accessories range is the natural evolution of the ClipGlove brand with quality user-friendly designs, making gardening more efficient to the end user. This latest addition is one of many inspirational products from the innovative Treadstone team, available for Garden Centres to stock now. DARE TO SELL DIFFERENT and contact us for more information and pricing – sales@treadstoneproducts.com.