Treadstone Products, who are known for innovative gardening brands, have achieved a promising sales performance this year for their award-winning Pot Trellis from the Good Life gardening range. This has resulted in hundreds of garden retailers selling the product in 2022, with solid repeat orders occurring every week.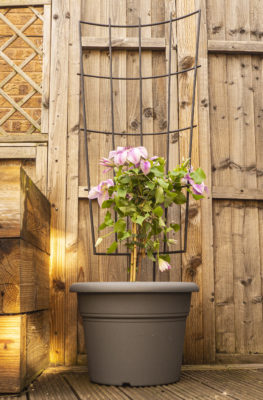 The success follows the
products launch at last years' Glee exhibition, where Pot Trellis won best new
product. Liked for its versatility and ease of installation, Pot Trellis &
Trough Trellis is a range of durable steel trellis that can be adapted to a
planter or even a bedding area. By pushing the clever stability plate into
compost, this design enables users to install a solid plant support within a
matter of minutes.
 The solution to a long-standing gardening problem
 The most unique product in the range is the Pot Trellis that is designed for round pots. Unlike the straight Trough Trellis, the Pot Trellis is curved to follow the shape of pots, a feature unseen in the market, until now. This solves a problem that gardeners have had for many years and now the solution is available to planting climbing plants in existing round pots. This solution is especially ideal for those with small gardens or balconies.
 But its not just round pots that this applies to, as the Trough Trellis also enables consumers to quickly install trellis into troughs and rectangular planters. This saves spending money on expensive trellis planters and means less waste utilising existing equipment.
 The design and build of the range are also well thought out, with tubular steel construction and an antiqued textured paint finish that helps plants grip to the trellis. As well as providing sturdy support for climbing plants, the Trough Trellis can be combined with plants to create stylish screening around a patio, decking or balcony area.
 Sizing to suit, merchandising to sell
 Whether using the range in new pots or existing pots there is a size to suit any area of outdoor space. The straight Trough Trellis is available in Small 95cm x 64cm (RRP £29.99),
Medium 136cm x 75cm (RRP £34.99), and Large 136cm x 99cm (RRP £39.99) sizes.
 The curved Pot Trellis, specifically designed for round pots, also has three sizes – Small 109cm x 40cm (RRP £24.99), Medium 128cm x 45cm (RRP £29.99), and Large 148cm x 50cm (RRP
£34.99).
Not only is Pot Trellis at affordable retail price points but there is in-store merchandising support available for Garden Centre stockists. In fact, all six variations of Pot Trellis can be supplied on a space-efficient merchandising stand supplied by Treadstone.
Pot Trellis is not only turning heads in the gardening industry; it is making growing climbing plants more practical and affordable to the end user. The team at Treadstone are proud to supply another inspirational product from the Good Life brand, making life easier for gardeners. DARE TO SELL DIFFERENT and contact us for more information and pricing – sales@treadstoneproducts.com.