Treadstone Garden's sustainable direction is continuing, this time under their award-winning ClipGlove brand. 'Bottle Gloves' by ClipGlove has started to appear in UK garden centres alongside keen interest from end users.
ClipGlove is a brand that was launched by Treadstone in 2019 and the range has continued to grow since then. The range's foundations are built on innovation as well as functionality, with each pair of gloves being held together with a carabiner clip. This clip enables gardeners to fasten the gloves onto a convenient place during and after use. This leads to a reduction in users losing their gloves, as well as making gardening tasks more efficient.
Made from 95% Recycled Bottles
The new multi-purpose 'Bottle Gloves' range features a stylish collection of Men's and Ladies' gloves made using recycled plastic bottles! The knitted glove is made from a staggering 95% recycled plastic bottles, with just a little added elastic for comfort. The Glove is then dipped in natural latex to provide grip and protection from dirt and water. The fun, colourful printed designs add a touch of style whilst giving a nod to the "bottle heritage" of the gloves.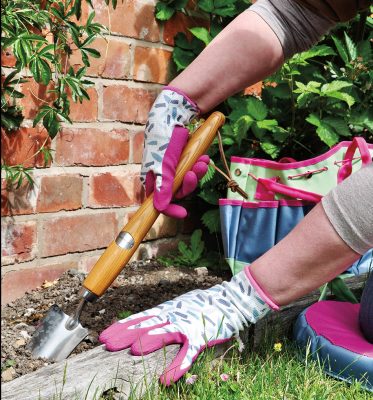 Eco Gloves from the Specialists
Treadstone are also known for being an innovative supplier of Safety gloves to multiple European markets. By working in close partnership with some of the finest glove manufacturers in the world, they have developed an unrivalled selection of innovative glove products, which now includes ClipGlove and the most sustainable garden gloves around – Bottle Gloves.
There are two versions available in the Bottle Glove range and both gloves are suitable for general garden jobs such as weeding, sowing, potting, and planting.
The Standard Bottle Glove (from RRP £5.99) features a textured palm coating of natural latex to provide grip and protection. Bottle Glove Plus (from RRP £7.99)  is made from the same construction as the Bottle Glove, but with an extra coating of latex, which stretches up the back of the hand to provide increased durability and protection against moisture. The Plus offers a more hardwearing option for more intense gardening tasks such as landscaping. Common to both gloves are the famous carabiner clip which keeps the gloves close and in sight.
Recommended by the media.
With such excellent pedigree as a glove manufacturer, it hasn't taken long for the media to notice Bottle Gloves either. The new glove range was recommended as a useful and innovative eco gardening solution as part of the 'Growing Greener' feature in the March 2023 issue of BBC Gardener's World magazine. This media attention has come at the perfect time as the product became available for retailers to stock and created extra awareness leading to an increase in enquiries from end-users.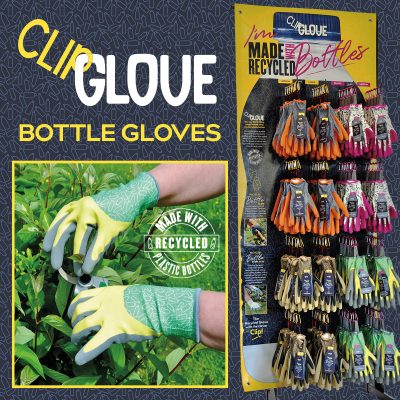 With eco-conscious gardeners due to flock to the nearest garden centre in search, Treadstone have point of sale available to stockists to make the range stand out in store. The ClipGlove brand is known for award-winning impactful merchandising, and the Bottle Gloves merchandiser is no different, reinforcing well the eco message and bottle heritage central to the manufacturing story.
Tom Stolworthy, Head of Sales for Treadstone Garden said:
"ClipGlove is a brand that is synonymous with functionality and now with Bottle Gloves we
are adding sustainable innovation to continue the story of the brand. The new Bottle Glove range is simple and compelling by offering a multi-purpose glove for consumers who want to be kinder to the planet and in-store presentation that delivers the concept with conviction"
ClipGlove is a brand that continues to innovate and now offers gloves for environmentally conscious gardeners. If you are interested in stocking ClipGlove Bottle Gloves, DARE TO SELL DIFFERENT and get in touch today, email sales@treadstoneproducts.com.

Take a look at the Treadstone Website for further information about ClipGlove.