The award-winning ClipGlove brand is set to re-launch the brands wellington boot range at Glee next month. Activity Boots are a range of wellington boots made from durable PVC, providing comfortable and value-for-money footwear. Activity Boots were very well received at the original launch at Glee 2022. Now with an improved product design, ClipGlove will take two steps forward into a new category of products but one that goes hand in hand with the practical ethos of the brand.
Launched in 2019, ClipGlove quickly became a popular brand in the gardening world due to its unique problem-solving approach to garden gloves. Each pair of ClipGlove Gloves come supplied with an integral carabiner clip that enables gardeners to fasten the Gloves to a beltline or stored away when not in use. Thus, ClipGlove helps users reduce the likelihood of losing gloves, whilst also making gardening tasks more efficient. ClipGlove now has a wide selection of gardening gloves and accessories all featuring the handy ClipGlove Carabiner Clip!
Boots packed full of features
ClipGlove Activity Boots are considered a natural progression range for a brand that offers quality products born out of style, safety, and practicality. These innovative boots are full of features that give hours of comfort – whether being used for a morning of gardening or a long walk with the dog.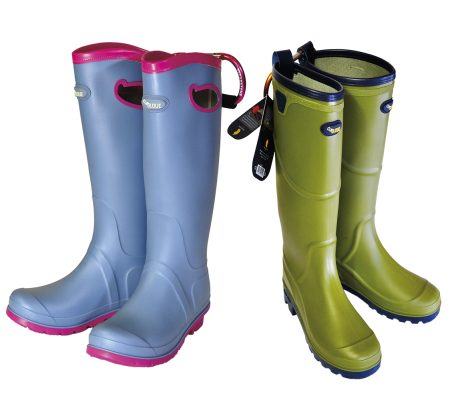 Featuring a two-tone design, Activity Boots are available in two choices. The smart men's boot is green with a navy top lip and tread, available in sizes 7-12. The stylish women's boot features a sky-blue body with pink piping and tread, available in sizes 3-8. Adding its own unique style, a giant carabiner clip holds each pair of boots together, perfect to keep your boots together and to hang them up for storage.
The quality of build is what you would expect from a ClipGlove product and is evident right from the first glance. Each boot features a contoured boot top which adds style and provides comfort. Comfortable insoles absorb impact in use and provide extra support for feet.
Activity Boots are also super easy to put on due to stylish hand grip apertures on each side of the ladies' boot, and the side grips on the men's boot.  Both style's also feature a strong riveted loop at the top, providing extra help to the pull the boot on. With comfortable features throughout even each carabiner clip has a protective sponge grip for extra support when users are holding the boots.
Retailing at £39.99, Activity Boots offer fantastic value for money for a unique take on wellington boots!
The clever clip strikes again!
The handy Carabiner Clip supplied with each pair of Activity Boots provides a unique user-friendly feature, which also lends itself well to merchandising in store.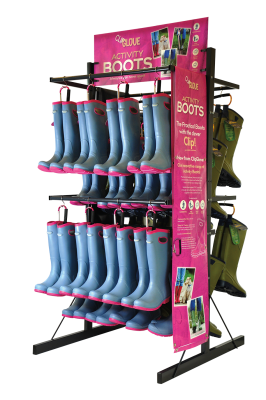 When sited on the ClipGlove Activity Boot merchandiser, the carabiner clip enables the boots to be hung staggered in a formation that means thirty-two pairs of boots can be housed on the stand rather than sixteen. The display stand itself is 180cm tall and a compact 82cm x 90cm on the floor, which means garden centres can generate over £1200 of sales in under one square metre!
Activity Boot merchandisers also include point of sale to help highlight the many features of this innovative product range. With the space-saving element and the high-impact branding, Activity Boots can be displayed to maximum effect, whilst holding more stock of the key selling sizes!
ClipGlove now offers a wide range of functional gardening products that provide protection, comfort, and convenience. If you are interested in stocking ClipGlove Activity Boots please feel free to contact the Treadstone team today, email sales@treadstoneproducts.com.
Visit the Treadstone team at Glee Birmingham, (NEC 27th-29th June) where they will be exhibiting the full ClipGlove range on stand 20J58.