Rope Trellis by The Good Life brand is the latest product from
Treadstone Garden to be creating a buzz, with positive responses from garden
centres and the gardening media. This month has seen a successful first round
of deliveries to customers, where a solid stockist base has already been
established.
Inspired by cargo nets, Rope Trellis is an alternative to
conventional fixed trellis manufactured using a natural jute material. It
provides the perfect marriage of user-friendly features and sustainability, at
the same time of hitting the retailer value 'sweet spot'.
Customer Friendly
Rope Trellis is available in five sizes (from 6 x 2ft to 6 x 6ft.) that all come supplied rolled up. Each pack is therefore easy to transport home where it can then be unrolled and installed.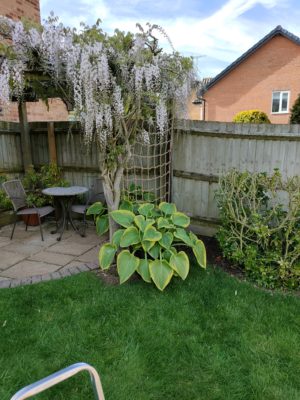 Rope Trellis is hand-made and tied specifically so that the product hangs tight and straight, giving a consistent sequence of support rope for plants to grip. Furthermore, if the user wants to add colour to the garden, Rope Trellis can be easily stained by dipping the rope in outdoor preservative.
Users can fix it to walls or fences or tie it between two wooden posts to create a stunning garden feature. Retailing from £19.99, installation is quick and the product can easily be uninstalled temporarily for when fencing needs painting or changing, as well as easily transported when moving home.
Eco Friendly
Treadstone are building a reputation for creating innovative products and wherever possible launching sustainable concepts. Due to the natural jute material Rope Trellis is an eco-garden solution which can be adapted to many types of gardens or outdoor spaces.
Despite only recently being delivered into garden centres, the trellis is already experiencing wide reach after media attention in March. Rope Trellis was recommended in BBC Gardener's World magazine's March 2023 issue appearing in the 'Growing Greener' feature and was highlighted as an innovative eco gardening solution. As a result, the range has experienced even more demand from end users and gardening retailers in recent weeks.
Garden Centre Friendly
The compact size of the Rope Trellis is also beneficial to retailers as its retail footprint is small, making it a more valuable proposition than fixed timber trellis. In fact each Rope Trellis display stand fits thirty pieces of Rope Trellis, with £900 of retail value in a little over 0.25 square meters. The merchandising stand itself is supplied ready built with impactful 'chalk board' effect branding supporting the Rope Trellis concept.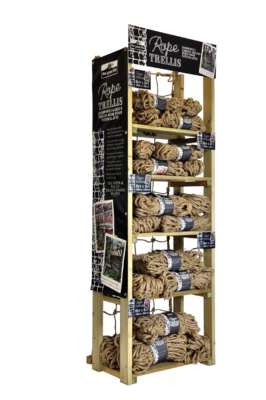 National Account Manager, Anne Corr said:
 'Rope Trellis created a buzz when we launched the product last year at Glee. Now the stock has been delivered into the market we are continuing to make noise about the range. We are delighted with the recent BBC Gardeners World review which has helped increase awareness of Rope Trellis to gardeners across the UK. With this products' unique appeal, we hope it can help garden centres offer a real point of difference, attracting gardeners of all ages'
For garden centres interested in stocking Rope Trellis or any other Treadstone product they can DARE TO SELL DIFFERENT and email – sales@treadstoneproducts.com to find out about pricing and availability. Browse the Treadstone Garden website to view all their products and brands.