Following on from the success of the recycled pots launched in 2021, Treadstone are firmly cementing themselves as the authority on sustainable gardening solutions.
Developed in collaboration with the Smartstore brand, which prides itself on commitment to quality, the new recycled storage solutions promise to provide retailers and consumers with a range of storage products designed to last.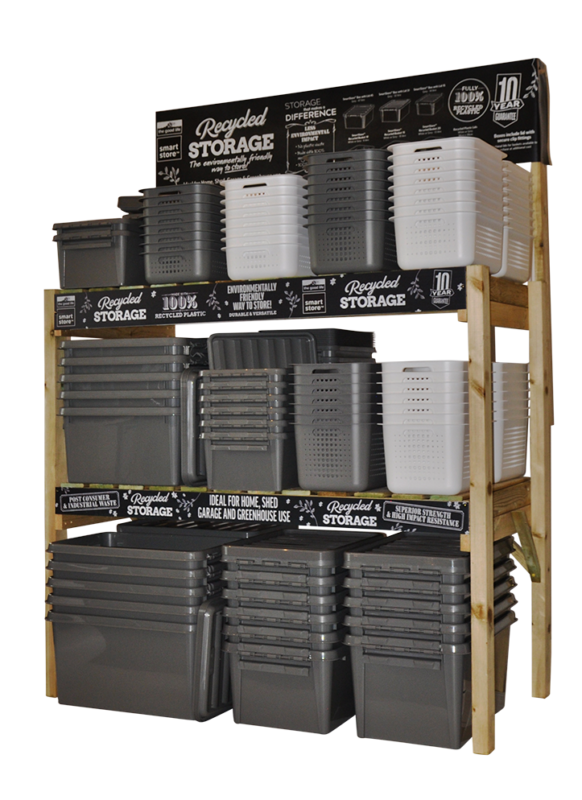 Rigid durable & strong
Developed and tested to offer high impact resistance, the
Boxes and Baskets are built to survive everyday life whilst providing essential storage within the home. Unlike a lot of products made from recycled and recyclable plastic, these products will not crack or split. In fact, Treadstone is so confident in the quality and longevity that they come with a 10-year guarantee against defects.
Environmental commitment
Plastic is a common feature within the storage market as it offers versatility and durability at an affordable price. However, Treadstone believes that, whilst this material is essential, it does not have to have an impact on the environment. This is why the storage solutions and pots are made from a high percentage of post-consumer recycled waste. Using this type of waste, means that discarded plastic from manufacturing is then recycled and reprocessed, thus closing the circular economy loop.
In addition to the recycled content of the product, Treadstone have committed to using no plastic packaging meaning that it is still better for the environment, even when it arrives in the end consumers' home.
Sustainable yet stylish
Featuring a sleek Scandinavian design, these strong yet sustainable storage products are Ideal for use in the home, shed, garage and even greenhouse.
The recycled storage boxes are available in a slate grey colour and are available in 14 litre, 32 litre and 47 litre capacities. These boxes also feature a colour matched lid which is secured with sturdy clips.
The recycled baskets are available in bright white and slate grey in 6 litre, 10 litre and 13 litre options with colour matched lids also available.
Despite these added features, this new range is affordable for retailers and consumers alike, with the Boxes ranging from £9.99 to £19.99 SRP and the Baskets ranging from £2.49 (for the lids) to £6.99. 
Everything with a purpose and everything in its place
These storage products provide an optimal place for everyday items and efficient mentality has extended through the range, even to the merchandising unit. The new merchandising unit displays the range in a space efficient way, and the engaging chalk board effect POS helps reinforce the eco message to consumers.
The Recycled Storage range offers easy to use, great looking products that are more sustainable than ever. DARE TO SELL DIFFERENT and contact us for more information and pricing – sales@treadstoneproducts.com.