Following on from past Best Buy recommendations on the ClipGlove brand in consumer gardening magazines, Treadstone Garden (Treadstone) have been recognised by BBC Gardeners World magazine for two of their new products for 2023. Treadstone are building a reputation for innovative and sustainable gardening solutions and the recent launch of eco products 'Recycled Bottle Gloves' (by ClipGlove) and 'Rope Trellis' (by The Good Life) have been well received.
This includes being recommended as useful and innovative eco gardening solutions as part of the 'Growing Greener' feature in the March 2023 issue of BBC Gardener's World magazine.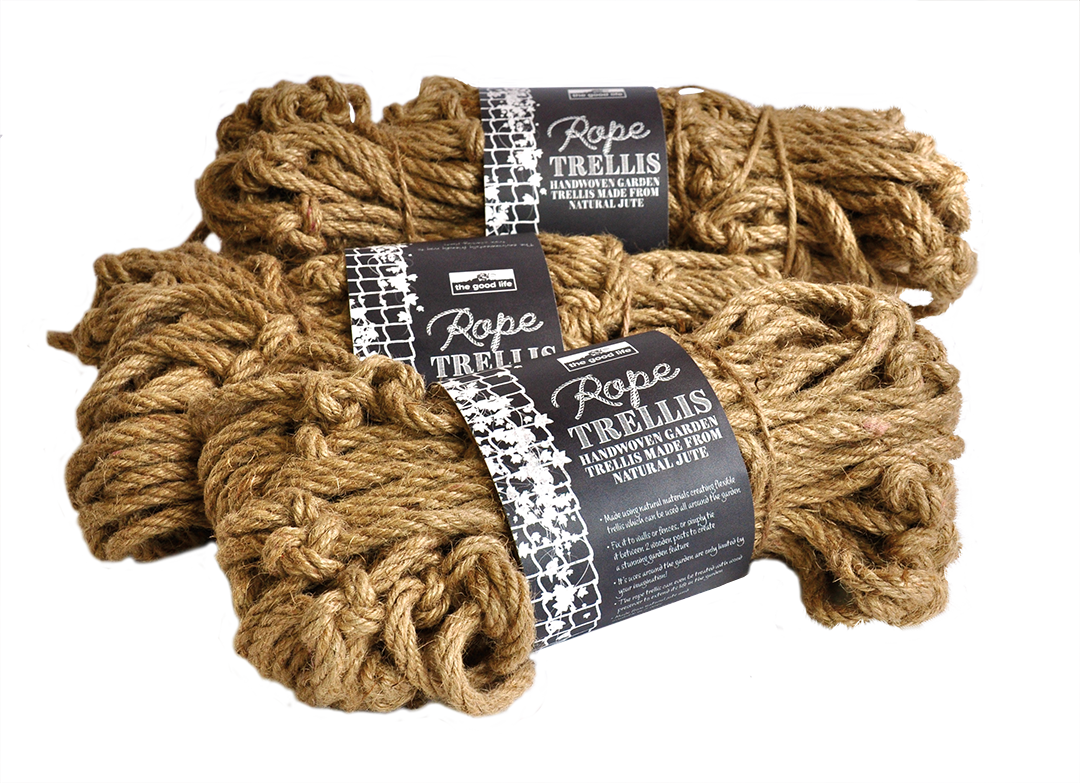 Natural Jute Trellis
Available in five sizes, Rope Trellis (from RRP £19.99) is a clever alternative to fixed trellis using a natural jute material to create flexible trellis which can be used all around the garden.
In the Growing Greener feature BBC Gardener's World highlighted
the best new green kit for 2023 for the eco-conscious gardener. They wrote:
 "Inspired by cargo nets, this trellis is handmade using natural biodegradable jute rope and is
carefully tied so that it hangs tight and straight, giving consistent support for plants. It comes rolled up, so is easy to store and simple to install – just fix it to walls or fences by the corner loops or simply tie between posts."
Rope Trellis is not only an eco-solution, but it can also be used to create a stunning garden feature and can be treated in a preservative to add longevity and extra colour. Take a look at the range here for more information – Rope Trellis – Treadstone Website.
Hard-to-Lose Recycled Gloves
ClipGlove Recycled Bottle Gloves (from £5.99) are a sustainably made stylish collection of Men's and Ladies' gloves made using recycled plastic bottles. Each pair of gloves is held together with an Aluminium Carabiner Clip. This Clip holds each pair together in store and means that gardeners will never lose their gloves again by attaching the clip to a belt or a garden bag.
In the 'Growing Greener' feature BBC Gardener's World highlighted the user-friendly design of the clip as well as the sustainable benefits, writing:
"This new range from ClipGlove is made from 95 per cent recycled plastic bottles, with added elastic for comfort and a textured natural latex coating for protection and grip. Bright colours make them hard to lose out in the garden and, like all ClipGlove products, they are supplied complete with a carabiner clip that can be attached to the gloves for easy stowing on
your belt loop"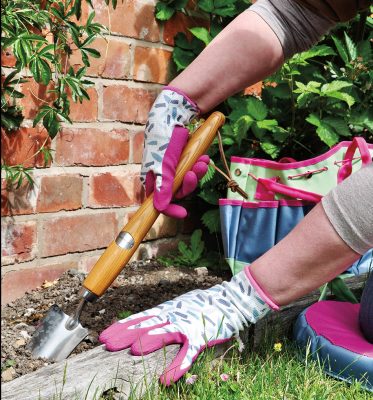 The range features a standard Bottle Glove and a Bottle Glove Plus option which features the same construction as the Bottle Glove, but with an extra coating of latex, which stretches up the back of the hand to provide increased durability and protection against moisture. Visit the website to find out more – Recycled Bottle Gloves – Treadstone Website.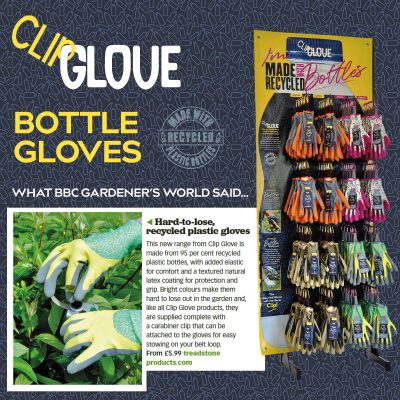 Retail support to Stand Out
With increasing demand for these eco-conscious products, Treadstone have full retail support for all stockists, with high impact displays for both ranges to fully stand out in store. DARE TO SELL DIFFERENT and get in touch to enquire about Treadstones' latest eco products, email – sales@treadstoneproducts.com to find out about pricing and other information.