Treadstone Products have experienced an incredibly positive response from the Glee show in June. Despite only having nine months to prepare for Glee Birmingham, Treadstone were able to showcase over 30 new products across their brand portfolio. Their stand was constantly busy, with a real buzz created from some unique concepts launched at the show.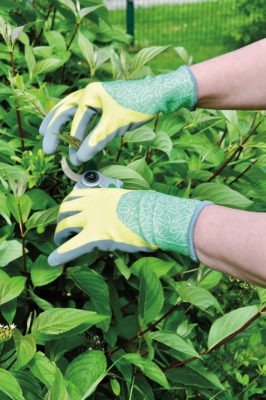 ClipGlove's evolution
 One of the biggest attractions on the stand was to see the evolution of the ClipGlove glove offering. Treadstone were proud to unveil that an average of 30% recycled materials will be used across the ClipGlove production of gloves in 2023. This move sees another sustainable commitment from Treadstone by using materials in production that would normally go to waste. Furthermore, the show saw the launch of the new ClipGlove "Glove Station". This is an opportunity for customers to upgrade their existing spinner by converting it to the new "Glove Station". Keeping the spinner as the centrepiece, the glove station provides a permanent home for the fast-selling triple packs and an impactful endcap for seasonal glove promotions. The "Glove Station" provides retailers and consumers with all their garden glove needs in one high impact, informative destination unit.
 Treadstone are no strangers to selling recycled products, with Recycled Pots being a popular product in recent years. As well as this range getting further exposure at the show, so did the new range of Recycled Storage. This range has been developed in conjunction with the SmartStore brand and uses post-consumer and industrial plastic waste to provide an environmentally friendly way to store! Unlike some cheaper inferior products, the boxes and baskets are rigid, durable and offer superior strength and high impact resistance, which is why they carry a 10-year guarantee against defects. Baskets and boxes are ideal for Home, Shed, Garage and Greenhouse use and like all Treadstone products there is a display stand with chalk board effect POS to helps reinforce the eco message to consumers.
New Boots, Gloves and Trellis
 The level of innovation at the stand was a real draw to visitors, who were sure to see something different. Further additions to the ClipGlove range were extremely well received, in the form of Recycled Bottle Gloves and Activity Boots.
 The new Recycled Bottle Gloves feature a stylish collection of Men's and Ladies' gloves made using recycled plastic bottles! The knitted glove is made from 95% recycled plastic bottles, with just a little added elastic for comfort. These gloves are then dipped in natural latex to provide grip and protection from dirt and water. The fun, colourful printed designs add a touch of style whilst giving a nod to the "bottle heritage" of the gloves. Within the range are two variations, Bottle Glove and Bottle Glove Plus, which has an extra layer of latex.
 Made from durable PVC to provide tough, comfortable, and excellent value wellington boots, Activity Boots are packed with many features. Available in both men's and ladies' styles, the contoured boot top – adds style and comfort. The "Easy-on" features makes for a better user experience, the Ladies' version features stylish hand grip apertures on each side of the boot, whilst the Men's version features a pull loop on the back of the boot to aid getting the boot on. The smart two-tone look is impactful, whilst the comfortable insoles offer support for feet. Every pair is supplied with the ClipGlove giant carabiner clip – perfect to keep the boots together and to hang them up for storage.
Arguably, the star of the show was the new Rope Trellis range. This clever product is hand made using natural materials creating flexible trellis which can be used all around the garden. It can be easily fixed to walls or fences, or simply tie it between two wooden posts to create a stunning garden feature and plant support. It is made from natural Jute and is available in five sizes from 6x2ft to 6x6ft. Retailers loved the sustainability of Rope Trellis, twinned with the space efficient merchandising concept available.
 Treadstones unique approach to gardening products is continuing to win over buyers and retailers in the industry. In fact, Treadstone have reported meeting many new prospects and creating new leads at Glee 2022. These have included several accounts that have been targeted for some time.
 All the latest innovations unveiled at the show are now featured in the Treadstone 2023 brochure (click here to view). DARE TO SELL DIFFERENT and contact Treadstone today at sales@treadstoneproducts.com to discuss your requirements for 2023.