Reducing single-use plastic has been a key driver for Treadstone's Recycled Pot range. Now in its second year, the ranges' popularity is growing and growing and so is the product offering. Made in Italy, the recycled plastic pot range by The Good Life brand, has less environmental impact than standard plastic pots by producing no plastic waste – being 100% recycled and 100% recyclable.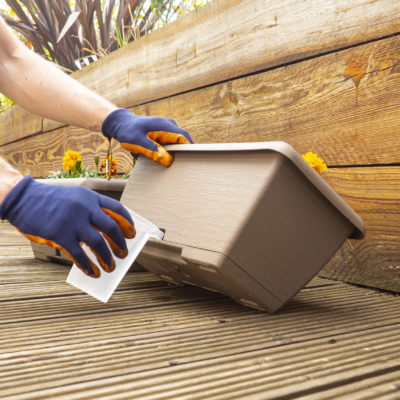 Growing range, growing sustainability
 For 2022 the content of the
raw material was upgraded to have a higher percentage of post-consumer recycled
waste. This means the Treadstone Pot range features more material from plastic
that has been used to manufacture an item, which was then discarded, recycled
and reprocessed. This type of waste material closes the circular economy loop,
meaning the waste never touches landfill and contributes towards a new purpose
or product.
To reinforce Treadstone's commitment to reduce single use plastics the whole Recycled Pots range also has zero plastic packaging.
 Stylish pots for all garden styles
 With a unique patented textured surface the Recycled Pots have a premium authentic look without the heavy weight of a stone planter. Twinned with a choice of three on-trend colours, they are the perfect companion for both flowering and foliage plants. The Terracotta range is great for the traditional English garden. Urban Grey offers a contemporary style to any outdoor space but is most suited to modern gardens or balconies. For a softer more subtle tone, the Latte collection is great for accentuating the colour of flowers and plants.
 With three great colours, there are four product variations available at affordable retail prices. This includes Cube and Cylinder Pots from £3.79 RRP, available in five sizes from 20cm to 40cm diameter. To match the pots, Round Saucers are available from £1.99 RRP. Troughs with assorted depths, widths, and lengths give the perfect option for many requirements, from windowsill planters to deeper troughs for stunning floral displays. Troughs come supplied with a saucer, a self-watering feature and are available from £3.19 RRP. Finally, a range of Bowls from £4.79 RRP provide an adaptable planting solution in three sizes, which are perfect for small plants and bulbs.
 Impactful Retail Displays
 To help spread the message of reducing environmental impact and less plastic waste a timber framed Recycled Pot Stand is available. This three-tiered merchandiser holds the full pot range for the colour style listed. This includes impactful POS headers and shelf edge strips which help sell the sustainability and uniqueness of the range. 
 The Recycled Pots range offers easy to use, great looking products that are more sustainable than ever.  DARE TO SELL DIFFERENT and contact us for more information and pricing – sales@treadstoneproducts.com.