Is Private Label Gloves for you??
Having a private label safety glove has many benefits, some obvious and some not so… The marketing element alone is a very powerful tool. It helps draw attention to your business, builds brand awareness to those who maybe didn't know your company and can provide a degree of stability for your customers. The innovations, the colour schemes, the identity and even the performance can be fashioned in your image, bringing to life fabulous new ideas for your business and for your customers.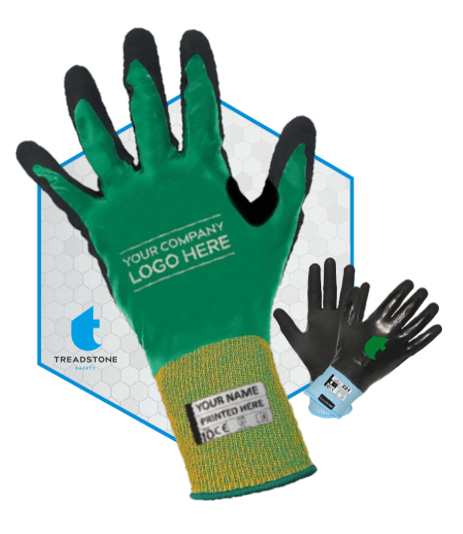 Buying in bulk, direct from the factory also of course has huge benefits with lower costs, but also in service terms, as you can then control your own inventory instead of being at the mercy of those supplying you with standard product. Lack of availability often leads to customers having to choose alternatives, perhaps even opening the door for competitors, not just on gloves, but on a whole range of products…
Treadstone Safety, as part of a large Asia Pacific manufacturing group are able to offer a wealth of knowledge and experience, when it comes to creating own label / private label / OEM customer branded products… Already supplying many of the world's leading safety glove brands, Treadstone Safety Group are pleased to offer our UK customers this complete concept, design, build, development, test and certification service, with finished product delivered direct to your door, duty paid…..
Whether you are trying to imitate an existing product in the market right now (availability subject to IP ownership / patent protections) or just have a design you want to create with your own unique vision, Treadstone Safety can help bring this to life… We can facilitate brand creation, glove design, product development and ensure the product meets your performance requirements, before independently testing, inspecting and certifying for sale in your desired market…
Treadstone are also proud members of the BSiF (British Safety Industry federation) and their exceptional Registered Safety Supplier Scheme.
We can also offer private label versions of our own existing products, a route many of our customers use already… Listed below is a brief overview summary of the simple steps from a simple idea to delivering the product to your door, but this process is usually outlined best in a face to face meeting, to ensure glove styles and performance are correctly understood by both parties…
Simple Step by Step Summary.
1. Agree glove style, design, performance requirements.
2. Agree packaging / labelling requirements.
3. Confirm glove price delivered as required and one off certification costs to be paid by customer…
4. Approve final sample / design / quality and sign off necessary authorisations.
5. Place order. (Allow 120 days' lead time for regular product / 180 days' lead time for brand new product.)
6. Pay 30% deposit (if required) with order.
7. Pay 70% final payment or commit to 30-day credit terms on bill of lading.
8. QA support on your premises or on our own, prior to release of the goods to the customer.
9. Prepare next order, bearing in mind lead times and predicted sales volumes of the customer…
Of course we're not all glove experts and maybe you're not quite sure what's available to you. See below our in depth (but not exhaustive) check list of what options we have available, which we can talk through in design meetings with your staff or customers, before making our final offer…
Detailed options / check list:
Is the glove requirement a copy or imitation of an existing glove? What is the manufacturer and code? Please provide a datasheet and 2 pairs of samples for each project.
Performance Data:
Does the glove have a very specific performance requirement it must meet? I.e Gloves must be EN21420 as standard, but for EN388 there are abrasion, cut, tear, puncture and TDM cut plus impact resistance options. Examples such as 4X42EP for instance…
Try using our special Treadstone Glove Selector software, to see if the glove you want actually already exists, or can be used as the basis for the glove you want to design… Available to use on the web site or as a file download we can send to you directly. If not, see lists below and put together your requirements individually from the many options available.
Base materials:
Yarn Type:
• Nylon / Recycled / Polyester / HPPE / Graphene / Spandex / Polycotton.
Yarn gauge.
• 21g, 18g, 15g, 13g, 10g, 7g.
Yarn Colour.
• Can be literally anything. Provide pantone reference if possible.
Material Type.
• Leather (cowhide, goatskin) / Faux Leather / Recycled Faux leather.
Material Weight.
• Light / medium / heavy.
Material colour.
• Can be literally anything. Provide pantone reference if possible.
Coatings style.
• Single Palm Coating / Single ¾ Palm Coating / Single Full coating / Double Dipped + one of previous.
Coatings Material / Finish.
• Nitrile Foam / Nitrile Microfoam / Nitrile Sandy /
Nitrile Flat
• Latex / Latex Foam / Latex crinkle
• PU
• PVC Polka Dots
• Specialist Silicone Print Coating / patterns also available.
Glove Lining.
• Thermal Lining 7g or 10g Terry
• 3M Thinsulate (several weights available or Chinese equivalent)
• Unlined
Special Features.
• TPR (EN or ANSi) plus also "glow in the dark" hi vis options / colour options
• Thumb Crotch plus colour options
• Extended Thumb Crotch plus colour options
• Hole feature (for clip / karabiner
• Something new innovative / special or unique?
• Do you need to achieve a specific performance for cut or abrasion, puncture etc?
• Is it oil grip or touch sensitivity or even touchscreen capabilities that the glove must have?
Size Range.
• Most glove styles available 6-11 / 7-11 / 8-11 / 7-10.
• Special sizes 5 / 12 are available upon request.
Markings.
• Heat Sealed transfer (Indicate where!)
• Pad Print / screen print
• Sewn in Label
Packaging:
• Pack sizes 1prs, 6prs, 10prs or 12prs with User Instructions placed where?
• Internal packs / bags / boxes / belly wraps
• Do you require special recycled / recyclable options?
• External boxes are black printed as standard with contents. Specify branding design and colour, plus special requirements if required.
• Product can be palletised specially to specific requirements at extra cost and loaded on containers as such, but this requires loss of cbm available for product, increasing costs.
Additional Information.
Maybe we missed something, or there's an option that we just haven't mentioned. Whatever it is, if its physically possible and practical (and of course its not protected in some way by IP or Patents) I'm sure we can facilitate the idea… Please don't hesitate to ask…
Putting a private label glove together can be extremely easy and uncomplicated, or can be a full scale innovative development, but whatever your requirements, Treadstone Safety have the knowledge, the experience and the capability to turn your safety glove wish list into reality…
Interested, please contact us to arrange a call, a zoom or a meeting to allow us to present ourselves and our services in person.
Tony O'Donovan – European Sales Manager – Safety Division.
Mobile: 07591 207324
Offices: 01978 664667